If you're looking for best Indian restaurants in San Francisco, then this article is for you. In this article I have listed 10 best Indian restaurants in San Francisco available now online or offline (restaurants on street).
There's no doubt — Indian food is one of the best cuisines in the world. From savory curries, to mild and creamy desserts, diverse range of starters and other mouthwatering meals — no restaurant can beat Indian food.
The San Francisco Bay Area is home to one of the largest Indian populations in the United States. So it's no surprise that there are numerous spots in this increasingly-thriving metropolis where you can dine on delicious Indian food.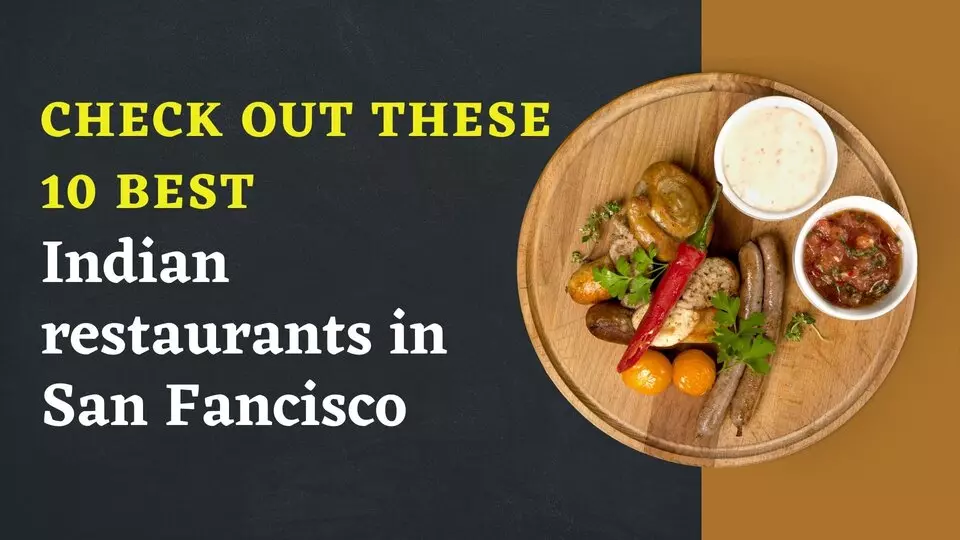 10 Best Indian Restaurants in San Francisco are listed below:
Curry Up Now
Address: 659 Valencia St, San Francisco, CA 94110
Website: curryupnow.com
Timings:
Sunday to Thursday: 11:00am to 09:00pm
Friday and Saturday: 11:00am to 10:00pm
Social Media: instagram.com/curryupnow
Akash Kapoor and his wife Rana came up with the idea for Curry Up Now, the well-known Bay Area group of restaurants, food trucks, and Mortar & Pestle Bar, with the help of co-founder Amir Hosseini. Curry Up Now offers authentic Indian dishes in a familiar, approachable way.
Curry Up Now, a well-known food truck, opened a restaurant on Valencia and started serving Instagram-friendly updates on classics like tikka masala burritos, sweet potato "sexy fries," and "naughty naan" flatbread topped with cheese, caramelised onions, shredded jalapenos, and tikka masala.
Keeva Indian Kitchen
Address: 908 Clement St, San Francisco, CA 94118
Website: keevaindiankitchensanfrancisco.com
Timings:
Tuesday to Friday: 11:00am–02:00pm, 05:00–09:00pm
Saturday and Sunday: 11:00am–09:00pm
Monday: 05:00pm–09:00pm
Social Media: https://www.facebook.com/KeevaIndianKitchen/
At Keeva Indian Kitchen, savour spicy, flavorful food with an Indian touch. The generations cooking techniques for Indian food are still used at Keeva Indian Kitchen.
Each high-quality meal has been prepared slowly and steadily for as long as India has been cooking. It takes time for all the spices to meld together to produce the mouthwatering flavour that we are confident you will enjoy.
Authentic food is available at our Indian restaurant in San Francisco, California, even for staunch herbivores. That's because we also specialize in scrumptious vegan treats that you'll love. Ajeet and Rita Mehta, a husband and wife team, founded this Clement Street beauty.
Rose Indian Cuisine
Address: 1386 9th Ave, San Francisco, CA 94122
Website: www.roseindiancuisine.com
Timings:
Sunday to Saturday: 10:30am–10:00pm
Social Media: https://www.instagram.com/roseindiancuisine/
Rose Indian Cuisine was founded in order to serve delicious and reasonably priced modern Indian food to San Francisco. It takes great pride in obtaining the finest ingredients from local California farmers and produce markets.
They also obtain real Indian and Himalayan herbs and spices to guarantee the highest quality. Since they care about the environment, they always utilize compostable containers.
Om Kandel, a chef, contributes his extensive expertise, experience, and inspiration to build the foundation of Rose Indian Cuisine. He cares deeply about the calibre of the cuisine and the service.
He has experience and skill in cooking modern Indian, Himalayan, and Indo-Chinese fusion dishes. After working with numerous Michelin Star Chefs and successfully establishing his brother's Tara Indian Cuisine, Om isn't hesitant to share fresh, original concepts and dishes based on his own experience and practice.
Amber Indian Restaurant
Address: 25 Yerba Buena Ln, San Francisco, CA 94103
Website: amber-india.com
Timings:
Sunday to Saturday: 11:00am–02:30pm, 05:00pm–09:30pm
Social Media: https://www.instagram.com/AmberIndiaRestaurants/
Vijay is a founder and well-known restaurateur and businessman in Silicon Valley. His well-known hit, Amber India, showcases Indian cuisine at its peak and on par with other global leaders.
Amber India, which was the first restaurant to serve "Butter Chicken" more than 25 years ago, has established itself as a Bay Area icon and helped to enhance Indian food in San Francisco. Amber India continues to be a popular choice that crosses generations while adhering to tradition and accommodating modern tastes.
The local community has continued to enjoy Amber India throughout the years, making it a well-known favourite, a preferred caterer for private events, and a frequent venue for business dinners.
Curry Leaf
Address: 943 Columbus Ave, San Francisco, CA 94133
Website: curryleafinsf.com
Timings:
Tuesday to Sunday: 11:00am–10:30pm
Monday Closed
The popular restaurant in Russian Hill is Curry Leaf. A large tandoori grill is used to cook the halal meats at this Indian and Pakistani restaurant. That includes kebabs made of beef, lamb, and chicken as well as lamb chops and chicken legs. However, the mashed eggplant dish known as bengan bharta, which is cooked in a garlicky tomato sauce, is the chef's favourite.
Rooh SF
Address: 333 Brannan St #150, San Francisco, CA 94107
Website: roohrestaurants.com
Timings:
Sunday to Thursday: 05:00pm–09:30pm
Friday and Saturday: 05:30pm–10:00pm
Social Media: https://www.instagram.com/roohpaloalto/
Rooh delivers modern Indian food in a refined atmosphere, as one could expect from India's Good Times Restaurants hospitality restaurant. This was the company's first outpost in the United States, and they now operate a second branch in Palo Alto.
Simply told, Rooh is vibrant and imaginative, especially their little plates. Rich mawa-stuffed black morel mushrooms are smothered in delicious yakhni sauce.
The spicy chickpeas with potato mousse and crunchy salli shreds are filling enough to serve as the world's greatest campfire dinner. When you bite into the avocado-filled puri puffs with cold yoghurt mousse, they break in your mouth in a delicious way.
Viva Goa Indian Cuisine
Address: 2420 Lombard St, San Francisco, CA 94123
Website: vivagoaindiancuisine.com
Timings:
Tuesday to Sunday: 11:00am–03:00pm, 05:00–10:00pm
Monday Closed
We are aware of no other restaurant in the city that focuses mainly on cuisine from the western Indian state of Goa. One justification for visiting this Marina location is rarity. The seafood dishes are worth travelling outside of town for.
The prawn xacuti serves as Exhibit A. A big quantity of shrimp is included in this rich, somewhat sweet, coconut-heavy Goan curry. The tandoori fish, which comes sizzling on a platter and is flaky enough to cut with a spoon, is another dish you must eat.
In order to hear what our friends are saying across the table for last-minute dinners, Viva Goa is ideal because it is rarely too busy and has lots of tables available for walk-ins.
Udupi Palace
Address: 1007 Valencia St, San Francisco, CA 94110
Website: udupipalacesanfranciscoca.com
Timings:
Sunday to Saturday: 12:00–08:50pm
If you want to dine on some of the greatest dosas in the Mission, wear sweats, and spend an hour catching up with a buddy, go to Udupi Palace.
The ones at this South Indian vegetarian restaurant are delightfully crispy, stuffed with ingredients like well-seasoned potatoes, and depending on the kind you choose (like the mysore), they may range in size and form from a little suitcase to around that size.
This little restaurant also serves saag paneer with more spinach, extra puffy poori, fried samosas with a variety of chutneys for taste, and a substantial curry menu. And don't worry if the thought of dressing in sweats and simply dropping in for a dinner overpowers you.
Roti Indian Bistro
Address: 53 W Portal Ave, San Francisco, CA 94127
Website: rotibistrosf.com
Timings:
Tuesday to Sunday: 11:30am–09:00pm
Monday: 05:00–09:00pm
Social Media: https://www.instagram.com/rotibistro/
Roti Indian Bistro combines modern, fresh style with traditional Indian cooking ways to provide really modern Indian food. The chefs take visitors on a gastronomic journey of India, including charcoal tandoori meat delicacies from the north and vegetarian meals from the south.
Tilak
Address: 3501 Mission St, San Francisco, CA 94110
Website: tilaksf.com
Timings:
Wednesday to Monday: 05:00–10:00pm
Tuesday Closed
For Bay Area cooks, Tilak Gurung was able to change the course of events. After working in the kitchens of major tech companies like Apple and Dropbox, where he claims to have fed Justin Timberlake and the prime minister of Singapore, respectively, he founded his own restaurant at the top of Mission.
In addition to dahi puri chaat, the crunchy street treats packed with yoghurt, tamarind, mint, and sprouts, he serves savoury curries and tandoori to Bernal Heights.
Tilak Indian food offers well-known dishes like chaats, curries, and Tandoor delicacies that are prepared with the utmost authenticity – you'd be hard-pressed to find these kinds of dishes anyplace else in the Bay. Like this, Chef Tilak combines his global experiences to produce novel and distinctive flavours that you've never had before.
Conclusion
If you love Indian food, chances are you could spend your time in San Francisco without ever having to go outside the city. If you don't believe me, try going there, visit once the above listed best Indian restaurants in San Francisco.
Learn About:
8 Best Indian Food in Chicago, IL
10 Best Indian Restaurants in Boston
Frequently Asked Questions
Do any Indian restaurants have Michelin stars?
In late 2010, Chef Vikas opened his eatery, Junoon in Manhattan's Flatiron neighbourhood. Junoon was awarded its first Michelin star the following year. Since then, Chef Vikas has accomplished the feat six times in a row.
Which Indian dish is the most popular?
India's most well-known and widely-consumed cuisine is curry. India is famed for its tomato-based curries, and other nations have followed suit in claiming that they are the ultimate in comfort food.