Indian food will always be one of the top cuisines in Boston. There are so many amazing Indian restaurants and it's hard to settle on just one. If you are looking for the best Indian restaurants in Boston, then you are at the right place. Below is a list of some of the best Indian restaurants available in the Boston.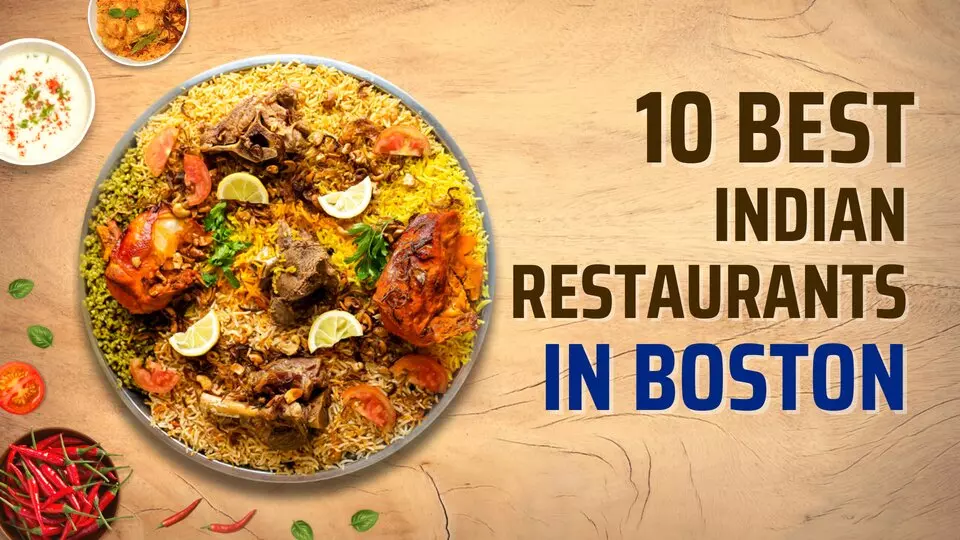 10 Best Indian Restaurants in Boston are listed below:
Dosa n Curry
Address: 447 Somerville Ave, Somerville, MA 02143
Website: www.dosa-n-curry.com
Timings:
Tuesday to Thursday: 11:30am–3pm, 05:00pm–9:45pm
Friday and Saturday: 11:30am–9:45pm
Sunday: 11:30am–10:00pm
Monday Closed
Dosa n Curry is located at the intersection of Somerville Avenue and School Street. If you wish to prepare your own Indian cuisine, there is a little grocery store close that sells Indian food.
The music retailer Boss Organ is also nearby. If you're a musician, you should check it out. If you prefer deep-fried cuisine, I propose you try the veggie pakoras when you're ready for supper.
A great appetizer is the veggie samosa, which is filled with peas and mashed potatoes. You might wish to order the masala dosa, which is a crepe packed with curry spices, onions, and potatoes.
Vaisakhi Indian Kitchen
Address: 157 Sutherland Rd, Boston MA 02135
Website: vaisakhiindianrestaurant.com
Timings:
Monday to Saturday: 11:30am–10:00pm
Sunday: 11:30am–10:30pm
Vaisakhi Indian Kitchen is the vision of two friends, Baljit and Arvind, who want to serve up wonderful north Indian food to the Boston community. Vaisakhi is defined by Punjab's rich culture, tastes, and spices. Vaisakhi is the Punjabi New Year and harvest season in India. Vaisakhi will be the finest time to taste delicious Indian cuisine in the Boston City.
The most well-liked dishes on menu here include chicken biryani and veggie samosas. I advise trying the chicken tikka skewers and the coconut shrimp appetizer.
The ideal dish to keep you coming back for years is the lamb korma served with some rice. Shrimp masala and fish curry are excellent choices if you enjoy seafood.
Shanti Restaurant
Address: 1111 Dorchester Ave, Dorchester, MA 02125
Website: shantiboston.com
Timings:
Sunday to Saturday: 03:00am–09:00pm
Social Media: https://www.instagram.com/shanti_boston/
In Sanskrit, the term "Shanti" signifies "peace." With both the environment and the cuisine, Shanti seeks to convey its visitors to a more calm realm.
Diners at Shanti will enjoy more than just Indian cuisine; they may also taste Bangladeshi-style cuisine known as Bhuna. All three locations provide a diverse selection of vegetarian, vegan, and gluten-free alternatives.
The Shanti Restaurant is located near the Girls and Boys Club of Dorchester, near the intersection of Savin Hill Avenue and Dorchester Avenue. You can also have rice pudding for dessert and a refreshing mango lassi to drink. So, while in Boston, be sure to visit by the restaurant.
Tikki Masala
Address: 3706 Washington St, Jamaica Plain, MA 02130
Website: www.tikki-masala.com
Timings:
Sunday to Saturday: 11:45am–10:00pm
The high-quality Indian dish for which the Tikki Masala restaurant is known. You may explore Forest Hills Station Mall Park all day long across the street. The popular restaurant in the area is then where you may enjoy getting lunch. Lamb bhuna and lamb korma served with garlic naan are among my favourite recipes.
The tandoori chicken wings were good as an appetizer. On the side, try some green tea and mango chutney. Order some chicken biryani, which is a rice dish that includes savoury Basmati rice and spices, if you're craving something to eat.
Punjab Palace
Address: 109 Brighton Ave, Boston, MA 02134
Website: www.punjabpalace.com/
Timings:
Monday to Friday: 11:00am–03:00pm, 04:30pm–11:00pm
Saturday and Sunday: 11:00am–10:45pm
Social Media: https://www.facebook.com/PunjabPalaceBoston
The Punjab Palace is an attractive restaurant with helpful staff. There is a bakery and a Korean restaurant near by where you can find it in Boston's fantastic food area.
A delicious lunch and dinner are served at the upscale restaurant. The lamb coconut korma, the lamb curry, and the shrimp masala are some of the restaurant's dishes that will enjoy.
The bread basket is an excellent choice for sharing with friends and family. For dessert, you can enjoy the mango ice cream and the chocolate midnight treat.
Also learn: 8 Best Indian Food Omaha, NE
Vaanga Boston
Address: 102 Water St, Boston, MA 02109, United State
Website: vaanga.us
Timings:
Sunday to Saturday: 11:00am–09:00pm
Social Media: https://www.instagram.com/boston_vaanga/
Vaanga reflects the essence of true Indian food by combining traditional and unique new twists on this treasured ethnic dish. The VIBRANT VAANGA Team strives to provide consumers with the greatest Indian flavour experience possible by using South Indian spices and herbs that are both healthy and delicious.
Vaanga specializes in Hyderabadi Biryani, 100 different types of dosas, Indo Chinese specialties, and a variety of other Indian-inspired foods. With the VAANGA Express (food Truck Catering) and many more attractions like as LIVE DOSA, LIVE CHATS, and so on, the specialized catering crew will make your event an amazing occasion.
India Pavilion
Address: 17 Central Square, Cambridge, MA 02139
Website: indiapavilion.co
Timings:
Sunday to Saturday: 11:30am–10:30pm
Social Media: https://www.facebook.com/IndiaPavilion?rf=145019912294008
The small James Cronin Park and Central Square Church are also nearby, as is the Indian Pavilion restaurant.
The restaurant is directly served by the metro, which is another option. Because of the founder Mohan Singh's sincere desire to serve others, India Pavilion rapidly became a Cantabrigians and Bostonians alike tradition known for its wonderful and authentic Indian cuisine.
Using his knowledge of North Indian cooking, Singh expertly created each recipe. He learned traditional Indian cooking from his mother when he was a young man, which is where his passion of excellent spices and fresh ingredients began.
Prior to making the journey to Cambridge to start India Pavilion, Singh spent his formative years developing his trade in a number of renowned Indian restaurants in New York City.
Punjabi Dhaba
Address: 225 Hampshire St, Cambridge, MA 02139
Website: punjabidhaba.co
Timings:
Sunday to Saturday: 12:00pm–10:30pm
Social Media: https://www.facebook.com/PunjabiDhabaMA
The cuisine is excellent and truly wonderful despite the relaxed ambiance. The delicious chicken tikka masala, the flavorful vegetable samosa, and the wonderful garlic naan are the most well-liked dishes here.
When Mohan Singh established Punjabi Dhaba in Inman Sq. in 1998, he brought the traditional, strong tastes of Punjabi food there. Punjabi Dhaba at Inman Square serves quick, fresh, and delectable Punjabi food at reasonable pricing, reflecting the true flavour of the roadside dhabas found all along India's major highways.
Also learn: 8 Best Indian Food Seattle, WA
Himalayan Bistro
Address: 1735 Centre St, West Roxbury, MA 02132
Website: www.himalayanbistro.net
Timings:
Sunday to Saturday: 12:00pm–10:00pm
Social Media: https://www.facebook.com/himalayanbistro
The restaurant is located on the corner of Manthorne Road and Centre Street in Boston. The Himalayan Bistro is directly close to Stardust, another wonderful eatery.
Himalayan Bistro is thrilled to be the Greater Boston area's first Nepali restaurant. Nepalese cuisine is nutritious, practical, and delicious. All of the dishes are prepared in the same manner as the Nepali royal family is served (Claimed by restaurant).
The Maharaja
Address: 57 John F. Kennedy St, Cambridge, MA 02138
Website: maharajaboston.com
Timings:
Monday to Thursday: 11:30am–9:30pm
Friday: 11:30am–10:30pm
Saturday: 12:00am–10:30pm
Sunday: 12:00am–09:30pm
The Maharaja restaurant is located a few blocks from Harvard Yard. When visiting the Harvard campus, be sure to rub the foot of the John Harvard statue to bring good luck and possibly win admission to the famous university.
You may even admire the Harvard Community Garden. Then, when you're hungry, stop by the Maharaja on the corner of Winthrop and John F. Kennedy Streets.
Conclusion
We really hope the above list of best Indian restaurants in Boston has helped you find the perfect Indian Restaurant for you to enjoy tasty Indian food. As you can see, it's hard to pick just one Indian restaurant to recommend. The great thing about Boston is that it's such a good foodie town, with just about every cuisine under the sun to choose from.
You won't have any trouble finding the above listed Indian Restaurants to try out. And really, while the above list of 10 Best Indian Restaurants in Boston is restricted to Indian restaurants, remember that if you're in search of other cuisines, you could easily visit any one of the amazing restaurants that Boston has to offer.
Frequently Asked Questions
What is the most famous food in Boston?
Boston, a true foodie town, is best renowned for its baked beans. However, the seaside city is famous for its seafood, which includes everything from lobster rolls and New England clam chowder to steamed clams and fish and chips. Boston Cream Pie and the famed Fenway Frank are also popular throughout the city.
What sandwich is famous in Boston?
The North Shore-style roast beef sandwich is an iconic Massachusetts bite in all of its sloppy, messy splendour.