Denver is an exciting destination for foodies. With a variety of cuisines to choose from, one could spend days exploring the city's dining scene. Yet, with so many great options, how do you make your way through it? This list is my personal top 10 Indian restaurants in Denver that offer authentic Indian food. Just be sure to allow yourself enough time and space on your visit because each restaurant offers something unique.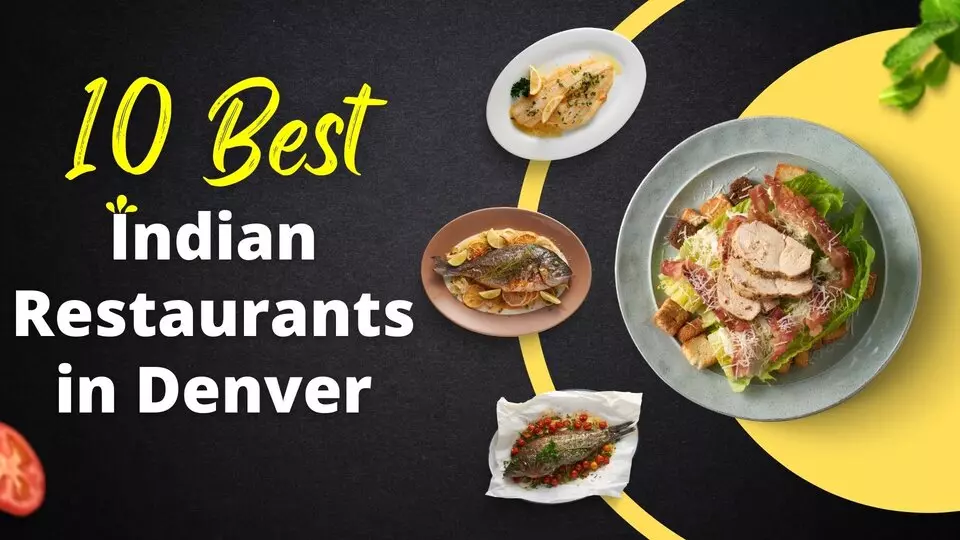 Top 10 Best Indian Restaurants in Denver are listed below:
Mint Indian Restaurant and Lounge
Address: 1531 Stout St Suite 130, Denver, CO 80202
Opening Hours:
Sunday to Saturday: 11AM–9:30PM
Website: mintindiandenver.com
In the Central Business District, there is a sophisticated restaurant and lounge called Mint Indian Restaurant And Lounge. It has a hip feel and is located near Sculpture Park on 15th St. and Champa St.
The menu at this neighbourhood underdog in downtown offers a variety of regional fare along with a few unique flourishes, such whole tandoori fish, chicken packed with lamb and eggs, and jhalmuri, a puffed-rice snack with avocado and potato.
Mix it up with chole bhature from the north, a chickpea stew served with fluffy fried flatbread for dipping, and complex, earthy Chettinad-style curry; the chef manages it all skillfully.
Mehak India's Aroma
Address: 250 Steele St Suite 100, Denver, CO 80206
Opening Hours:
Sunday and Monday: 12–10PM
Tuesday to Saturday: 12–11PM
Website: www.mehakdenver.com
Social Media: https://www.facebook.com/mehakdenver/
Eating at Mehak India's Aroma is an experience that will transport your taste senses to India. They are happy to present a wide variety of foods with delectable ingredients in a peaceful and beautiful setting.
The cuisine they serve is always created from scratch, and the aroma will entice you to sample all of the tasty meals. The foods served are a delectable blend of modern and authentic Indian cuisine. Make a reservation or stroll straight in to enjoy a high-end supper with authentic Indian cuisine.
Taste of India – DENVER
Address: 901 S Oneida St #1707, Denver, CO 80224
Opening Hours:
Sunday to Saturday: 12–9PM
Website: denvertasteofindia.net
Social Media: https://www.instagram.com/taste_of_india_denver_/
Taste of India is located in the Washington-Virginia Vale region, a casual, family-run restaurant. It boasts a fantastic buffet and homestyle fare and is conveniently located off the Dr. highway. The Denver institution serves up contemporary meat curries in addition to traditional vegetarian and vegan dishes.
The Subedi family acquired the restaurant in January 2020, despite the fact that it has been open since early 2002. Since then, they have put in endless effort not just to make the recipes better but also to provide you with the finest quality of customer service.
Since 2008, The Hindu Temple of Colorado has trusted this eatery to provide them with weekly catering. The menu and service are always being improved.
Spice Room
Address: 3157 W 38th Ave, Denver, CO 80211
Opening Hours:
Monday to Friday: 11AM–9:30PM
Saturday: 11AM–6:30PM
Sunday Closed
Website: denverspiceroom.com
Social Media: https://www.instagram.com/denverspiceroom/
One of the best restaurants in Denver to get vegan or vegetarian Indian food is Spice Room. Everything on the menu at this laid-back tiny neighbourhood eatery is vegan.
The butter chicken is the star of the show at this neighbourhood Indian restaurant, which is located just outside of Denver's Highland area. It delivers some of the tastiest curries in the city. You'll find yourself eating this dish again and over again, and it alone will place the Spice Room among the top Indian restaurants in Denver.
Little India Restaurant & Bar 6th Ave
Address: 330 E 6th Ave, Denver, CO 80203
Opening Hours:
Monday to Wednesday: 11AM–10PM
Thursday to Saturday: 11AM–11PM
Website: littleindiaofdenver.com
Social Media: https://www.instagram.com/littleindiaofdenver/
Since the founding of the Little India Restaurant in Denver in 1998 by the families of Baidwan and Malhotra, this region of Colorado has had access to high-quality Indian cuisine. The high quality of the food on the menu at Little India Restaurant has made it a highly popular choice with locals.
The coconut shrimp, momo dumplings, and calamari fried in chickpea butter are some of the dishes from Little India Restaurant that are well-liked.
The chicken ginger kabob, tandoori chicken, lamb chops, shrimp tandoori, and fish tandoori are some of the entree options. The restaurant provides a pleasant atmosphere and offers delivery for those who prefer to stay at home.
Serene Cuisine of India
Address: 2070 S University Blvd, Denver, CO 80210
Opening Hours:
Monday to Saturday: 11AM–9:30PM
Sunday Closed
Website: serenecuisineofindia.com
One of the top Indian restaurants in Denver is Serene Cuisine of India, which stands out among the DU neighborhood's abundance of dining options. Near the University of Denver, on Evans Avenue and S University Boulevard, lies Serene Cuisine of India, a restaurant dedicated to presenting dishes that are truly Indian. You can choose from a wide selection of dishes, including vindaloos and curries, whether you visit for lunch or dinner.
For more than 15 years, Damber Shankar, the owner and chief chef, has catered to foodies across the nation. His culinary consistency is friendly, whether the location is Nepal, Hawaii, Durango, Highlands Ranch, or Estes Park, Colorado. Each customer the restaurant serves is made happy by his love in the kitchen.
Himchuli – Highlands Indian & Nepali Cuisine
Address: Parking lot, 3489 W 32nd Ave, Denver, CO 80211
Opening Hours:
Monday to Saturday: 11AM–3PM, 4:30–9:30PM
Sunday: 11AM–3PM, 4:30–9PM
Website: himchulidenver.com
In the location of the former Coral Room, Himchuli Indian & Nepali Cuisine opened in December 2016. With over 15 years of experience in Indian and Nepali cuisine, "Himchuli" refers to the snow-capped pinnacle of a mountain, and they are confident in their ability to provide top-notch food, drinks, and service. The restaurant's owner is also the owner of the Cuisine of the Himalayas in Evergreen, Colorado.
Try Nepali food in this Indian eatery to mix things up a bit. You may order anything from Dal soup to Momo dumplings on the menu, which draws inspiration from both northern Indian and Nepali cuisine.
A refreshing mango lassi is the ideal thirst-quencher to pair with your dinner, whether you want to tread lightly or breathe fire. While you wait for your main course, order the combination starter to try a bit of everything Himchuli has to offer.
Yak & Yeti Restaurant
Address: 9755 E Hampden Ave, Denver, CO 80231
Opening Hours
Monday to Saturday: 11AM–9:30PM'
Sunday: 11AM–9PM
Website: denver.theyakandyeti.com
Fine Indian cuisine and on-site-brewed handmade beer are both served at full-service Yak and Yeti Restaurants. You'll adore the delectable food and welcoming environment, which is ideal for the whole family while yet being unique enough for just that particular someone.
They serve up a highly variety lunch and evening menu (including a great lunch buffet!) of exquisite Indian food, including vegetarian alternatives. Yak and Yeti is a fantastic place to take the family because of its welcoming atmosphere.
Zaika Indian Express
Address: 575 Lincoln St Ste-B, Denver, CO 80203
Opening Hours:
Wednesday to Monday: 12PM–12AM
Tuesday: 4PM–12AM
Website: zaikaexpressdenver.com
Zaika in Littleton delivers traditional and contemporary Indian cuisine in a bright atmosphere with modern accents. Before returning to work, stop in for a quick lunch. You can also bring the whole family for dinner and drinks from the complete bar.
The family-run restaurant places a strong emphasis on creating meals with luscious, flavorful spices and delivering them with devotion and love to ensure that every patron has a wonderful dining experience. In order to accommodate everyone in the group's dietary requirements, the menu offers vegan, dairy-free, and gluten-free options.
In order to get the meal started, Zaika serves a range of appetisers, such as veggie samosas, momos, chilli chicken, onion pakoras, cuTO salads, and rasila lamb. A daily chef's selection soup is also available to be eaten on its own or with other dishes.
Tikka & Grill
Address: 1300 S Broadway, Denver, CO 80210
Opening Hours:
Sunday: 11AM–8:45PM
Monday to Saturday: 11AM–9:15PM
Website: denver.thetikkaandgrill.com
The Tikka & Grill family looks forward to serving you in our lively and welcoming environment. Denver's Tikka & Grill restaurant is situated just on Broadway.
The restaurant's mission is to provide excellent Indian and Nepali cuisine at a fair price without compromising on taste or service. Everyone is made to feel welcome and they extend excellent hospitality.
At this South Broadway hotspot, which excels at classics like savoury saag and crispy-soft samosas while also producing a variety of lesser-known dishes, even the fluffy, flavorful rice hits differently.
Also learn:
Top 10 Best Indian Restaurants in Raleigh
10 Best Indian Restaurants in Atlanta
Conclusion
If you are planning a trip to Denver or you are there right now, it is highly recommended that you visit these best Indian Restaurants in Denver. All over the world, Indians have been traveling and eating out in restaurants. This has a lot to do with the fact that Indian food has some of the most unique flavor combinations.
Frequently Asked Questions
What is Denver famous for food wise?
Green chile, Colorado lamb, Palisade peaches, and craft beer are among the foods popular in Denver. Mexican food is also very popular. Many restaurants serve tacos, burritos, margaritas, and other Mexican dishes.
What is Colorado's most popular meal?
One of Colorado's most famous foods is lamb.