If you're looking for some best Indian restaurants in Charlotte, North Carolina, look no further. In this article I have compiled a list of top 10 must visit Indian restaurants in Charlotte so that you can make your decision based on what meets your needs.
Indian food tends to be heavily doused in spices, which is definitely the case here in Charlotte NC. The Indian food scene has really exploded over the past few years and with that comes a ton of options.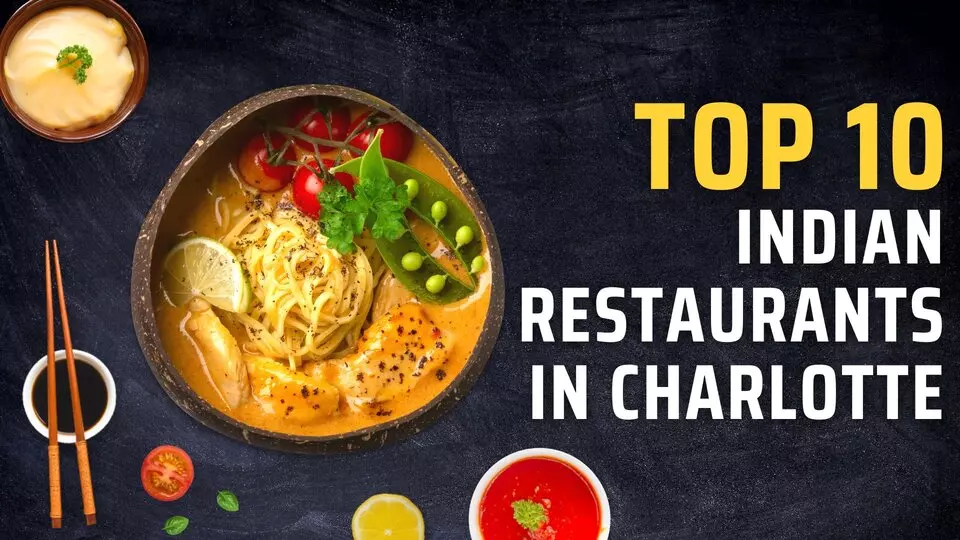 Top 10 Best Indian Restaurants in Charlotte are listed below:
Copper Modern Indian Cuisine
Address: 311 East Blvd, Charlotte, NC 28203
Opening Hours:
Sunday: 11:30AM–2:30PM, 5–9:30PM
Monday to Thursday: 11:30AM–2:30PM, 5–10PM
Friday and Saturday: 11:30AM–2:30PM, 5–10:30PM
Website: www.copperrestaurant.com
The historic Mayer House, where Copper Modern Indian Cuisine is located, attracts book lovers anxious to see the settings where Carson McCullers wrote The Heart is a Lonely Hunter.
Indian food is updated and elevated to gourmet dining at Copper Modern while still retaining its authentic characteristics. It offers a modern interpretation of well-known and beloved tastes. The service is outstanding, and the cuisine is consistently delectable. It provides a wonderful dining environment.
Curry Gate
Address: 630 W 24th St, Charlotte, NC 28206
Opening Hours:
Tuesday to Sunday: 12–9PM
Monday Closed
Website: currygates.com
Social Media: https://www.instagram.com/curry.gate/
Curry Gate serves a variety of flavorful and delicious Indian cuisine. Their food is well recognised for having varying degrees of heat. When ordering your favourite Indian cuisine, check the levels to see how hot or spicy you can handle. There are several tasty appetisers, main courses, and other options on their menu.
Additionally, they offer drinks with Indian flavours as their roots. Additionally, you have the option of dine-in, delivery, or pick-up. This laissez-faire approach is supported by the numerous five-star reviews for the restaurant, which are vouching for Curry Gate and its chicken tikka masala.
Maharani Indian Cuisine
Address: 901 S Kings Dr, Charlotte, NC 28204
Opening Hours:
Sunday: 12–3PM, 5–10PM
Monday to Thursday: 11:30AM–2:30PM, 5–10PM
Friday: 11:30AM–2:30PM, 5–11PM
Saturday: 12–3PM, 5–11PM
Website: maharanicharlotte.com
Maharani has been a mainstay in Charlotte since since it first opened in 2002. Natives of New Delhi, the proprietor and his wife take great pride in offering a menu full of traditional Indian food. Maharani literally means "Queen," making it the ideal choice for the Queen City.
Some of North Carolina's best meals are prepared by Maharani using traditional Indian spices and techniques. Maharani is conveniently situated close to Charlotte's uptown. Customers can swing by for the substantial lunch buffet or place a menu order.
Don't be scared of hot food because the chef will produce dishes to your preferred level of heat. Vegetable samosas from Maharani are not to be missed, and the eatery offers lots of vegetarian and vegan options for customers with dietary concerns.
Botiwalla Optimist Hall
Address: 1115 N Brevard St Suite 203, Charlotte, NC 28206
Opening Hours:
Monday to Thursday: 11AM–9PM
Friday: 11AM–10PM
Saturday: 11AM–4PM
Sunday: Closed
Website: botiwalla.com
Social Media: https://www.instagram.com/botiwallacharlotte/
Meherwan Irani opened Botiwalla to provide Charlotte his favourite Iranian-Indian cuisine. The restaurant offers a variety of dishes inspired by Indian street sellers as well as meals in the style of an Iranian cafe. With Chef Irani, diners are in competent hands.
Meherwan Irani is a chef and restaurateur who, through his expanding restaurant and spice empire in the key culinary capitals of the South, is altering American perceptions of Indian food.
Saffron Indian Cuisine
Address: 2135 Ayrsley Town Blvd B, Charlotte, NC 28273
Opening Hours:
Sunday: 11AM–3PM, 5–9PM
Tuesday to Thursday: 11AM–2:30PM, 5–9:30PM
Friday: 11AM–2:30PM, 5–10:30PM
Saturday: 11AM–3PM, 5–10:30PM
Monday Closed
Website: saffron-cuisine.com
Saffron Indian Cuisine located in the small but vibrant community of Ayrsley, consistently serves up superb, inventive Indian cuisine. Sunil Handa, the chef and co-owner, began to cook in his mother's kitchen, went on to work as a chef in various 5-star hotels in New Delhi, and has been gracing the QC with his exquisite cuisines from India since 2008.
In Saffron's clean, modern setting, traditional Indian cuisine is skilfully cooked and swiftly presented. The restaurant has a large menu and a buffet for those who wish to experience a little bit of everything. Saffron serves vegetarian, vegan, and gluten-free options.
Royal Biryani
Address: 9624 Monroe Rd, Charlotte, NC 28270
Opening Hours:
Sunday: 12–2:30PM, 5–9PM
Tuesday to Saturday: 11AM–2:30PM, 5–9:30PM
Monday Closed
Website: royalbiryanius.com
Social Media: https://www.instagram.com/royalbiryanikabob/
Royal Biryani is housed in a strip mall and appears modest from the outside. It appears to be an everyday restaurant, yet its menu and dishes carry a powerful punch. It is one of the best Indian restaurants in the area. They provide a wide range of classic Indian meals and have a relaxed ambience ideal for relaxing with friends or family.
The eatery delivers traditional Indian meals fast and efficiently. Each course is delivered quickly and with a side of rice by the courteous staff. Enjoy the meal in the spotless facility or order it for takeout; either way, the staff will gladly assist you from ordering to eating fast and effectively. There are vegan and vegetarian choices available at the restaurant.
Passage to India Indian Cuisine
Address: 9510 University City Blvd #101, Charlotte, NC 28213
Opening Hours:
Monday to Sunday: 11AM–2:45PM, 5–9:30PM
Website: passagetoindianc.com
Social Media: https://www.instagram.com/passagetoindianc/
Passage To India is an Indian restaurant in Charlotte, North Carolina's University district. This unique Indian restaurant delivers distinctive Indian delicacies that you will like. They continue to serve all of their customers the richness and individuality of Indian cuisine.
They serve North and South Indian cuisine, allowing you to sample the various flavours of Indian cuisine. Apart from Indian cuisine, they also serve Indo-Chinese cuisine. With these exploding Asian flavours, you get a taste of how Asian cuisine tastes. They were founded in 2009 and have been serving their fantastic menu from their kitchen with passion for over ten years.
King of Spicy
Address: 8829 E W.T. Harris Blvd #107, Charlotte, NC 28227
Opening Hours:
Tuesday to Sunday: 2–10PM
Monday Closed
King of Spicy is a laid-back restaurant specializing in Nepalese and classic Indian food. Breakfast, lunch, dinner, and drinks are available at King of Spicy. In addition to meat, the restaurant serves vegetarian and vegan cuisine.
The weekend buffet at King of Spicy is available to diners. The restaurant is tucked away at the end of a commercial strip brimming with Latin American boutiques and restaurants. They also have some of the best pricing in town.
Bombay Grille
Address: 8706 Pineville-Matthews Rd Ste 170, Charlotte, NC 28226
Opening Hours:
Tuesday to Friday: 11AM–2:30PM, 5–9PM
Saturday and Sunday: 12–3PM, 5–9PM
Monday Closed
Website: www.bombaygrille.com
Having established more than 20 years ago, Bombay Grille is among Charlotte's first true Indian restaurants. The restaurant uses the traditional Tandoori cooking method and specialises in northern food. Bombay Grille was founded in 2000 by Naval Sethi, and in 2003 his son Nishal took over the reins of operations.
The restaurant continues to serve delicious food despite the management change. The Bombay Grille was the region's first eatery of its kind, and the Sethi family introduced traditional Indian food to the Research Triangle region of North Carolina.
There are three important North Carolina universities located in the Research Triangle. While the institutions fill their heads with knowledge, Bombay Grille serves naan to famished students.
Tabla Indian Restaurant
Address: 15025 Lancaster Hwy # D8, Charlotte, NC 28277
Opening Hours:
Sunday: 11:30AM–3PM, 5–9PM
Monday to Friday: 11:30AM–2:30PM, 5–10PM
Saturday: 11:30AM–3PM, 5–10PM
Website: tablacharlotte.com
Social Media: https://www.instagram.com/tablacharlotte/
Tabla Indian Restaurant serves delicious Indian cuisine that is pleasing to both the palate and the eyes to those who visit. In addition to dining in their restaurant, they offer corporate catering, which you can order online for your convenience. Their chef has over 20 years of expertise cooking in the top restaurants.
This ensures that you will experience one of the finest tastes of Indian cuisine in your area. Furthermore, their superb food is delivered by a kind and dedicated crew. Their excellent customer service enables their clients to enjoy their meals and have a memorable dining experience.
Also learn:
Top 10 Best Indian Restaurants in Raleigh
Top 10 Must Visit Indian Restaurants in Austin, TX
Conclusion
Indian cuisine is a fantastic blend of spices, flavors and complex tastes. It's an exciting alternative to traditional American fare. A place that specializes in authentic Indian dishes also has a unique ambiance to it. We really hope the above listed Indian restaurants in Charlotte has helped you make your decision based on what meets your needs.
Frequently Asked Questions
Where does Indian community live in Charlotte NC?
Indian residents in Charlotte are still increasing, particularly in Ballantyne, a suburb.
Is Charlotte, North Carolina, a city with a thriving food scene?
Charlotte is one of seven up-and-coming big towns for foodies, according to National Magazine.